If you are hearing the name DSers for the first time, I will do a quick introduction of what DSers is and how it could benefit your dropshipping business.
DSers is basically an App that integrates with your online store to help you automate your eCommerce business.
The DSers App allows you to source products from the AliExpress online marketplace by presenting you with offers and access to thousands of products that you can directly host on your online store.
What it offers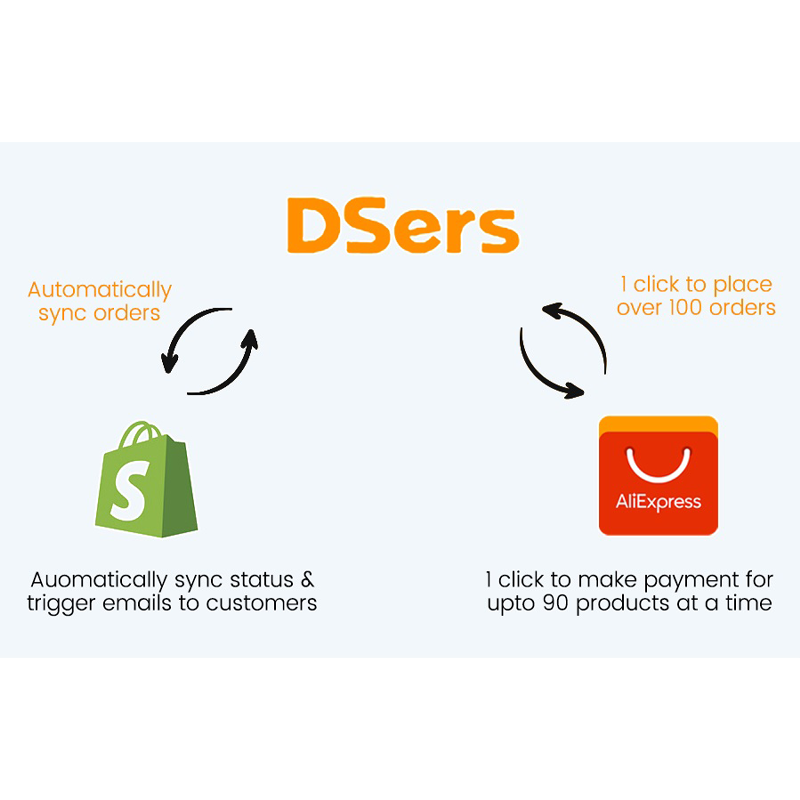 Adding items to your online store with DSers is as simple as a couple of clicks, regardless of which online store platform you employ for your e-commerce business (Shopify, WooCommerce, Wix etc.).
DSers also makes it simple for you to make changes to item listing details such as the title, description, prices, and photographs making it incredibly convenient for dropshippers. If you want to customize your items, such as adding your company's logo design to items and product packaging, you just have to put through a request with your product supplier from the same interface.
With DSers, you can complete orders in a matter of seconds with a few simple clicks. Making a sale entails purchasing a product from a supplier, who then ships the product directly to your prospective customer. This way, you can concentrate on populating your online store with items that you have researched and believe will do well in your target market, making those sales, and initiating those orders or putting the process on auto-pilot without having to hold stock yourself.

DSers is to essentially to AliExpress what Oberlo is to Shopify. The partnership with AliExpress allows the App to offer its users unlimited number of orders and access to the best suppliers on the AliExpress marketplace.
DSers is growing in popularity amongst dropshippers and there's a good chance it could overtake Oberlo giving the better advantage it offers dropshippers plus it's pricing that starts free (for up to 3000 in products per account and followed by $1.99 per month for up to 7500 products per account.
In summary DSers offers the following features and promises more future offerings;
Automatic fulfillment of orders
Unlimited orders per month
Pre-configured delivery methods
Automatic synchronization of tracking numbers
Delivery tracking
Price and stock control
Daily synchronization pf goods
Managing multiple stores from a single DSers account
In this guide, we will go through how to use the DSers App to build a profitable Dropshipping Business.
Step 1. Start by registering an account at https://www.dsers.com/app/register
Step 2. In the next step you can select a plan that best suit your dropshipping business needs.
Step 3. You will need to link your store with DSers at this point. DSers provides a setup wizard that will guide you through this process.
For WooCommerce;
After installing the App, you can go to your Shopify App or WooCommerce App area to find the DSers APP and launch it. You will not be required to provide any log-in information because DSers will obtain this information from your Shopify account.
Step 4. After linking your store, the setup wizard leads you to link your AliExpress as well and with this done you can move on to the next step. You can link your AliExpress store from your DSers account with the guide of the account setup wizard. The process allows you to be whitelisted and with the AliExpress Whitelist you will get privileges that will allow you to place bulk orders and reduce order failures.
The beauty of this is that it will also give you access to hot DSers items, trusted supplier rank and product analysis.
Step 5. At this point you need to set pricing rules for your DSers App according to your pricing strategy.
Step 6. Next step is to map products on your Shopify store to an AliExpress supplier by clicking the button at the right bottom of the product block/card. This way DSers will know how to process orders through AliExpress.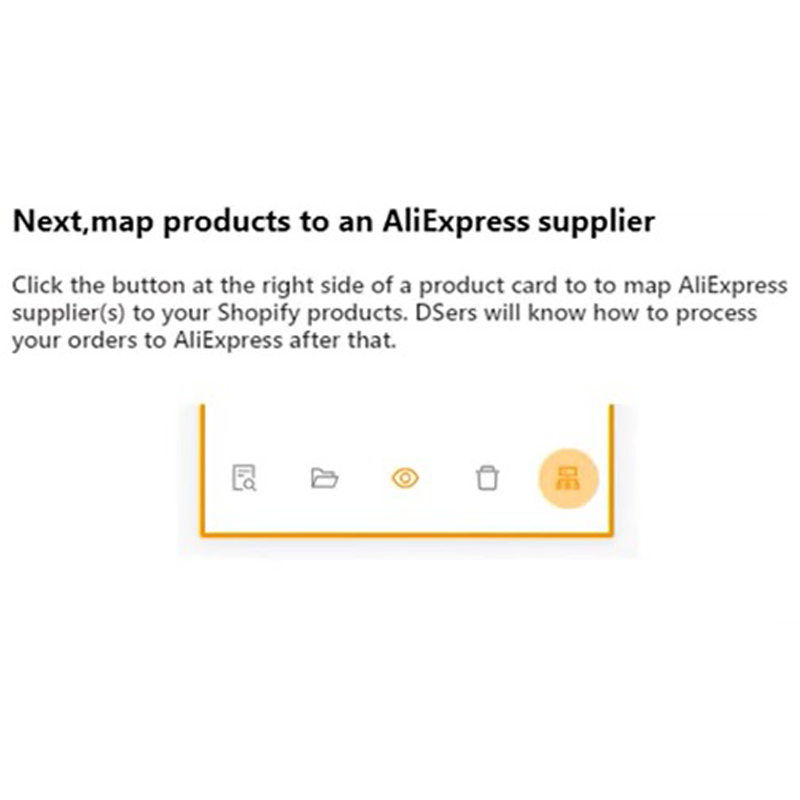 To add products to DSers from AliExpress store from the DSers App Dashboard Open DSers App, go to products, add the AliExpress products URL, and click OK.
You can achieve same through a google chrome extension. To do this, go to google chrome extension and install DSers there and then follow these steps;
Visit AliExpress.com from your google chrome browser
Click on DSers extension icon
Select your store name
In the next option, select Epack
Click update setting
From there on you can go to any AliExpress category and add products with just a single click.
Step 7. You can edit products on the DSers App after you add them. You will need to go to the products on the App on the product the pencil icon to the bottom left of the product allows you to edit the product.
Clicking the pencil icon will produce a popup where you can edit product title, variants and description.
When you are done editing, click on SAVE then use the PUSH option to send the product to your Shopify store.
You can now go to Shopify to find your products there and do further editing if you desire to.
Step 8. Setup shipping methods for all your products. You can do this by going to the settings area of your DSers App and selecting shipping to reveal the shipping options you can define in DSers.
You will need to turn on the shipping setting for your shipping methods to be effected.
from here you can set you shipping settings accordingly, for country specific or global coverage you can also determine your favourite shipping method and from here on it will be your default method.
You also have the option to select multiple shipping methods in order of preference for each destination. Click on save to complete the action.
Step 9. Place orders on DSers from your online store. This is as simple as it can get and all you need to do after you get an order on your store is to get on your store's DSers App click on order and hit the PLACE ORDER.
If you have multiple orders on your store, you can also place bulk orders with few simple clicks from the DSers App area.
And that's it! Your orders will be fulfilled as setup by the 3PL service you opted for in your shipping settings.
Professional Tip 1: Dropshipping supplier is always the best option going forward
Overall DSers brings to the table something that was very much needed by dropshippers using the AliExpress market place. The advantage and ease-of-use it offers online stores working with this option is perfect to help them grow their operations.
The experience from online store owners has also showed very positive reviews in the way of support and customer service. This is indeed a very much needed alternative to Oberlo.
The drawback to this though is for the bigger dropshipping online stores who are seeking a much higher efficiency with the operation of their online stores and services that help them differentiate from the market such as product branding and customization, same day to three days fulfillment.
With these requirements bigger Aliexpress
dropshipping businesses are better-off with Professional dropshipping suppliers who can handle this logistical supply chain side of their business like they are part of their internal operation.
Professional Tip 2: Setting up your dropshipping Operation
For those who are starters however AliExpress offers a perfect way to get things rolling. Things might get off very slow initially, but don't be discouraged by the slow starts most experienced and successful dropshippers know this is just part of the drill, the learning and success curve is often a little longer for most entrepreneurs but never cut short. So, walk your humble beginnings with some patience.
I will leave a guide and some tip on how to get off with AliExpress and grow into a big player in the ecommerce and dropshipping business.
I am assuming you already have an online store setup as this is the first step having done your research and work on your business strategy on going to market. If you have not, then follow the link to learn how to setup your online store on one of the popular platforms (Shopify, WooCommerce, Wish).
Now that you have an online store you can follow the guide as have been explained in this blog to list products on your store. It is important to put some time into the look and feel of your store, something bright and catchy always catches the attention of visitors as you don't want to throw off people o their first visit.
Now start posting Ads about the products you sell on Facebook and Instagram or Google Ads. All dropshippers use these Ads platforms as they have been effective towards bringing people to your store and converting them. You can learn more here on how to use Ads to grow your online store.
Take an example Facebook Ads above, it links to the store and anyone can visit your store from an Ad like that and hopefully makes a purchase one of your products. Like with the guide in this post you will now go to your dropshipping app and place the order for that product.
The dropshipping app will connect to AliExpress, add all of the products from that order to your cart, fill in all of your customer's information, and then you simply press "Pay" to complete the transaction.
The product is shipped to the customer and everything that is left after the cost of Ad, product cost and fulfilment cost is yours for he taking.
Professional Tip 3: Take shipping times into consideration when listing a product
Delivery times on AliExpress are very different from country to country. It could take anywhere between 12 to 60 days.
This is very much dependent on the country to which you are shipping to, the type and the shipping method you choose to use. However, there is a factor to this that has to do with the supplier of the product you are selling. This is something 90 percent of dropshippers don't know even those who have been I the dropshipping business long enough. This can improve your product shipping time to as less as 5 to 10 days, I will explain this fourth factor in a bit.
So, for example, if you want to ship something to the United States, it will take between 19 and 39 days to arrive. If you select ePacket as your shipping method for example, it will take between 12 and 20 days to arrive. The long shipping times aren't so much of a big deal if you have a amazing product that is worth the wait. However, you will still need to put good communication through to your customers so they understand that they will need to exercise some patience to have their orders delivered to them.
If you still believe that is an unreasonable amount of time, and you are looking to keep your customers happy to return to your stores then the next tip is just what you should key into as I consider this to be a priceless open secret.
Professional Tip 4: Use a Pro dropshipping supplier store on AliExpress.
One of the benefits that professional dropshipping suppliers offer is the faster shipping and delivery times giving their expansive logistics network that feature fulfillment centers and warehouses across the different continents. This expansive allow them to carry execute shorter shipping and delivery but they target only the big and established stores with a minimum of 30 orders per day.
Recently with Alibaba investing in a logistics infrastructure that will have shipping times for retail products delivered with 3 to 5 days from China and Honk Kong, pro dropshippers are now beginning to list products on AliExpress and similar platforms. With products listed on Aliexpress store by dropshipping suppliers like Bolt dropshipping store you can get your products fulfilled within 3 to 12 days if your product is listed, or you can request for a product through a chat with their reps on AliExpress.
A smart way to identify these stores by Pro dropshipping suppliers is to see which product delivered much faster when you make a bulk order. Some dropshippers are still surprised when they put through a bulk order and some products deliver within 7 days while some others delivered after two weeks. Well, the reason is what I've just revealed above.
There you have it guys! I hope this guide helps you in your bid to start your dropshipping venture. Do read more articles on our blog to lean more and get more insightful tips on dropshipping. Cheers Guys! And happy selling….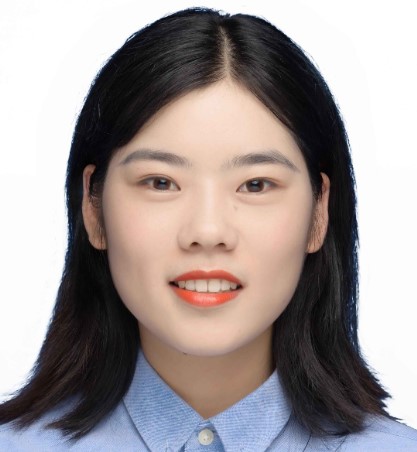 I am Komo, a marketing specialist with a strong focus on dropshipping. Over the past two years, I have gained valuable experience and expertise in the dropshipping industry. I have successfully implemented various marketing strategies to drive traffic and optimize conversions for dropshipping businesses. My passion for the industry has allowed me to stay updated with the latest trends and best practices, ensuring effective results for the companies I work with.