3PL fulfillment companies, also known as third-party logistics companies, are service providers that e-commerce store owners use to outsource and fulfill their shipping and logistics. Selling products online requires a lot of effort, not only discipline, financial acumen, but also marketing skills. By hiring a 3PL company, online store owners can outsource shipping and order fulfillment so they can just focus on running their business. With this background, the 3PL fulfillment model is growing rapidly and becoming a business model in the supply chain that cannot be underestimated. From the upstream production supply chain to the downstream retail terminal supply chain, 3PLs are still playing their respective important roles.
If you're looking for the best 3PL fulfillment companies, then this blog ranks and reviews the best options based on warehouses, price, service, shipping capabilities, distribution network, and more. Let's take a look at the list.
8 Best 3PL fulfillment companies
Dropship China Pro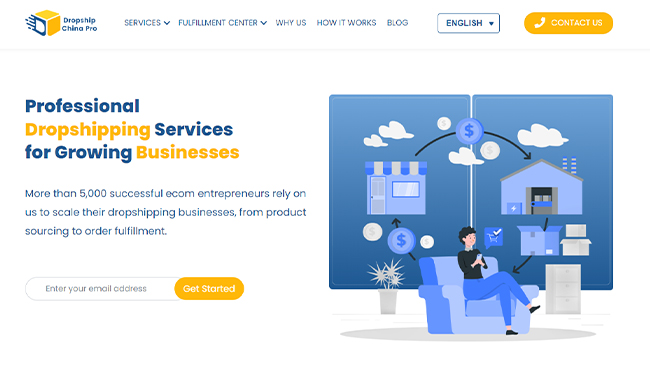 Warehouse Locations:
US: 1 Warehouse
China: 2 Warehouses
UK: 1 Warehouse
Europe: Italy Warehouse & Spain Warehouse
Australia: 2 Warehouses
Company Bio:
Dropship China Pro is the only Chinese company among these 8 3PL fulfillment companies. It is also the only fulfillment company that can provide dropship from China service. It was founded in 2015, formerly as an online store of baby care products on Aliexpress.
We are dedicated to providing service professional dropshipping services to growing companies and aim to aim to provide better service, higher quality, faster shipping, lower prices, as well as a transparent pricing system. What's more, Dropship China Pro offers your business a combination of expertise, dependability, and accountability. We are passionate about innovation and service excellence in ecommerce, and that is why we develop solutions that simplify your dropshipping needs and deliver value to your customers.
Our strategically located fulfillment centers network covers four continents along with shipping logistics hubs that allow us to rapidly ship orders to your customers at discounted shipping rates, saving your business a lot of money and improving customer satisfaction. Besides, we guarantee we'll get your orders fulfilled, tracking numbers updated, and customers notified within 24 hours after receiving an order in your store with the support of our self-developed OMS.
How it works:
Connect with our experts – We'll assign a dedicated account manager to each client.
Product sourcing & make your ecommerce store integration – We'll make product sourcing for you to choose high-quality products. At the same time, we'll integrate your online store with Dropship China Pro OMS to automate all processes of your order fulfillment cycle.
Quality control & inventory storage – All inbound and outbound logistics in our fulfillment centers are subjected to our quality assurance procedures. What's more, you can stock your dropshipping products in any of our global fulfillment centers for free for 90 days.
Packing customization & automatic order fulfillment – We can provide branding customization and you just need to note your packing preferences.
Speedy delivery dropshipping – We'll select the quickest and cheapest delivery route to deliver your consumers' orders faster and more cost-effectively. You can also check our site for the detailed shipping time of different regions.
Real-time order notification updates – Once the orders are marked as fulfilled, your clients will receive an email with tracking numbers.
After-sales service – Our customer service teams are at hand 24/7 to help you with refunds, returns, lost packages, or damaged merchandise issues. Of course you can contact your account manager for any problems.
Its 3PL Services:
Product Sourcing
Quality Control
Automatic Order Fulfillment
Branding & Customization
Delivery
Blind Dropshipping
After-Sales
APP: Dropship China Pro Fulfilment (Shopify App Store – Rating: 5.0)
Fees: Dropship China Pro's fees are entirely transparent. We don't hit you with starting, monthly membership or warehousing fees. Instead, we work with fixed prices for product, shipping, and packaging. On top of that, we offer substantial discounts for bulk orders and for extra. We will send a daily report with the order fulfillment costs update, so you can don't worry about the hiden fees.
Pros and Cons:
Pros:
Multilingual Salesmen from Various Countries
Personal One-to-one Account Manager
Price Transparency
Free Storage
Excellent customer service
Global Fulfillment Warehouses
Quality Control
Discounted Shipping Cost
Same-Day Order Fulfillment
Local Courier Tracking Number
Branding & Customization
Friendly Refund Policy
Promotion suggestions
Inventory Analysis
Cons:
MMQ is 10 orders per day
We won't show products' resources because this refers to the business secret of our clients.
Review source: Trustpilot-Dropship China Pro
Shipbob
Warehouse Locations:
US (Midwest-5warehouses, Northeast-5warehouses, Southeast-3 warehouses, Southwest-4warehouses, West Coast-5warehouses, Pacific Northwest – 1warehouses)
Non-US (Australia, Canada, Poland, UK, Ireland.)
Company Bio:
ShipBob is an international eCommerce logistics and also a fulfillment services company startup. It was founded in 2014 in the United States and currently operates in more than 220 countries and territories around the world. Its fulfillment network is spread across the continents of North America and Europe supporting more than 5000 businesses. It currently employs more than 900 people.
ShipBob offers several services for fulfilling online orders to businesses around the world. Its also offerings include warehousing, packaging, and shipping of online orders. It also allows businesses to manage split inventories across multiple locations. Besides, it offers express delivery solutions and allows customers to receive their orders within 2-days in select regions. Apart from these, it also allows businesses to assess their performance through comprehensive reports on the fulfillment process.
How it works:
Connect: Connect your store, import your products, then send them your inventory.
Store: They store your inventory in any combination of their fulfillment centers.
Ship: As soon as a customer places an order, they pick, pack, and ship the order to your customer fast.
Its 3PL Services:
Reception
Storage
Pick and Pack
Standard Packaging
Shipping
APP : ShipBob Fulfillment (Shopify App Store)
Fees: ShipBob provides custom quotes based on your requirements. Other services (such as warehousing, pick and pack, receiving, etc.) have separate costs. You can also visit their website to make custom selections to get an individual custom quote.
Pros and Cons:
Pros:
Express shipping is available within 2 days.
You can ship orders to more than 220 countries and territories.
Use your built-in reporting and analytics to make data-driven decisions throughout your supply chain.
Provide integration with third-party applications such as Wix, BigCommerce, Shopify, Squarespace, and more.
Provide a developer-friendly REST API.
The tool automatically sends orders to the appropriate warehouse.
You can search for orders, filter them by status, and quickly view your order schedule.
Cons:
There are excessive charges.
Poor customer service, they don't provide one-on-one customer service.
Untimely response to emails.
API connection with Shopify is shoddy.
Not a good choice for small businesses.
Review source: Trustpilot
RedStag Fulfillment
Warehouse Locations:
East Coast (Knoxville, TN)
West Coast Fulfillment Services (Salt Lake City, UT)
Company Bio:
Red Stag Fulfillment was the creation of two entrepreneurs who were successfully running several e-retail businesses, but they couldn't find a fulfillment company that provided the service level and quality they expected and demanded. In case their businesses scale, they have to cooperate with separate fulfillment providers to make the order fulfillment smoothly carried out. After researching dozens of others, they soon realized there wasn't anyone out there that could provide the level of quality and dependability they wanted. Thus, Red Stag Fulfillment was born.
Red Stag Fulfillment is a specialty ecommerce order fulfillment provider that's focused on working with retailers and ecommerce businesses who ship larger and/or heavier parcel shipments (typically 20-150 pounds), as well as orders that require assembly or kitting before shipping. In brief, Red Stag Fulfillment provides same-day order fulfillment with as late as a 5 pm EST order cut-off, discounted shipping rates, and 24/7 video security on all stages of fulfillment.
How it works:
Adding Inventory
Routing Orders
Picking, Packing, And Shipping
Managing Inventory
Handling Returns
Its 3PL Services:
3PL Warehousing – 2 Day Dock-To-Stock, Zero Shrinkage Allowance, Inventory Management, Kitting & Inserts.
3PL Fulfillment – Automated API Integration, Same-Day Pick & Pack, Returns Processing
And 3PL Shipping – 3rd Party Logistics
APP : No app now.
Fees: Red Stag Fulfillment doesn't disclose their pricing information, but they offer a 30-day risk-free trial period for all sign-ups. They claim to have a straightforward pricing model, but you'll need to talk to their team to find out the specifics.
Pros and Cons:
Pros
Short-term contracts available
Good for oversized, high-value, or fragile products
Inconvenience fees to ensure fast shipment times
They guarantee same-day fulfillment with perfect accuracy on every order. If they ever make a mistake, they pay you $50 on the spot.
Cons
High MMQ
Not suitable for lightweight items
Only two US warehouses
Charge by the month, not by the actual number of orders
ShipMonk
Warehouse Locations:
US: 7 Warehouses
Mexico:1 Warehouses
Canada :1 Warehouses
UK :1 Warehouses
Company Bio:
Founded in 2014 by CEO Jan Bednar, ShipMonk provides a technology-driven fulfillment solution for small and medium-sized e-commerce businesses that offer: order consolidation, inventory and warehouse management, as well as shipping optimization.
ShipMonk is an e-commerce fulfillment system that syncs with merchants' shopping carts in real-time to automatically accept fulfillment orders. Because it can process over 10,000 orders per day and has no minimum order count, ShipMonk is suitable for businesses of all sizes. In case of it, merchants can distribute their products directly from suppliers to different warehouses, from where orders are sent to customers. The company employs more than 1,000 people and serves a growing B2C business base that includes BrüMate, Liquid IV, Cuts Clothing, FEAT and CatLadyBox.
How it works:
You make or source a cool product, then consolidate all your channels into ShipMonk.
Use discounted shipping rates to ship your products to ShipMonk.
ShipMonk receives the products and performs quality control.
Pack and ship orders using predefined guidelines or custom packaging.
Send an email with the tracking number to your customer.
Powerful returns portal for exchanges and returns.
Its 3PL Services:
In-1 Cloud-Based Software:
Inventory Management
Orders Management
Shipping Management
Warehouse Management
APP: ShipMonk | Order Fulfillment (Shopify App Store-Rating: 3.8)
Fees: Its pricing model is also Free Trial, Subscription, and Quotation Based. Therefore, you can ask their services manager to provide a quotation for you. The figure below is the quotation about your basic fulfillment service, if you also have special demands, they will charge additional fees.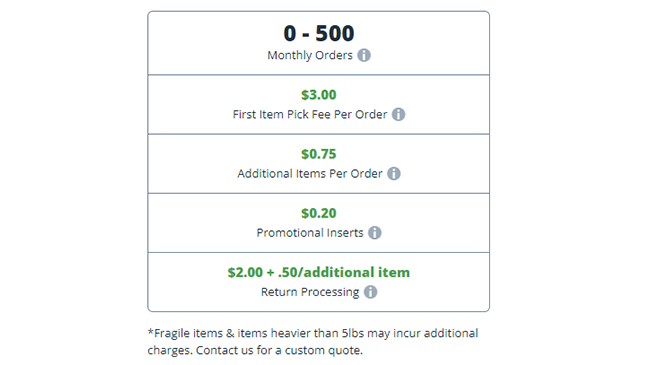 Pros and Cons:
Pros:
Best-in-class support from a dedicated service representative
Advanced measures and warehouse automation
Versatile programs for nontraditional business models and sales channels
Amazon SFP (Seller-Fulfilled Prime) eligibility
Cons:
Restrictive fulfillment network of three US warehouses
$250+ minimum charge in pick and pack costs
High mispick rate
No climate control for temperature-sensitive goods like health products or grocery items
Hidden costs in fine-print pricing details
Overpriced shipping fees and inventory fees
Communication with their "Happiness Engineers" is very hard
Review source: Trustpilot
Fulfillment (FDC)
Warehouse Locations:
US: 4 Warehouses
Canada: 1 Warehouse
UK: 1 Warehouse
Europe: 1 Warehouse
Australia: 1 Warehouse
Company Bio:
Fulfillment.com began in March 2011 when two partners founded Vanguard Economics, LLC. Because they identified a gap in the e-commerce fulfillment industry and wanted to create an e-commerce fulfillment company that would serve independent online retailers. Their mission was to provide a higher level of customer service and support than was available at the time. Furthermore, they developed their own Order Management System (OMS), making it easier for them to interface with their customers' stores to read order data.
How it works:
Connect with an ecommerce fulfillment expert of FDC
Then choose your fulfillment location(s)
Integrate your ecommerce online store
Send them your products and you can monitor everything now
Its 3PL Services:
Receiving
Storage
Integration
Order & Inventory Management
Returns&Reverse Logistics
Accounting and Billing
Client support
APP : Not found.
Fees: Their minimum contract requirement is 1 year. Moreover, their service needs to be prepaid, and the prepayment is determined by the location of your warehouse(s) and covers your picking, packaging, and shipping charges.
Pros and Cons:
Pros:
Self-developed OMS
Dedicated account manager
Smaller clients can be served
Cons:
Pre-pay system
Kitting fee, not very cost-effective
Additional unnecessary fees
Unfriendly refund policy.
Review source: Trustpilot
AMS Fulfillment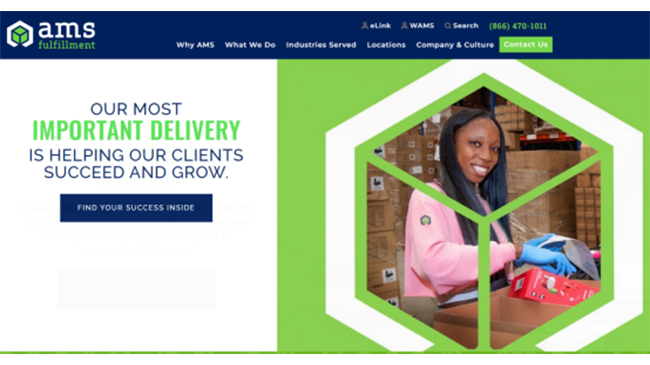 Warehouse Locations:
US warehouses: California (5), Pennsylvania (1), Delaware (1)
Company Bio:
Advantage Media Services, Inc. (AMS) is a full-service order 3PL fulfillment company that serves as a third-party resource for order management, warehouse management, and also fulfillment services. While the AMS model is simple: provide the highest quality of service to customers.
It was founded in 2002. By now it is a well-established logistics company with 300 employees in all its locations and $112.24 million (USD) in sales. (Sales figures are analog).
How it works:
AMS has an automated order fulfillment system to read your orders.
They also have a warehouse management system to store your inventory, and do all the picking, packing, sorting, tracking, and shipping for you.
Its 3PL Services:
Bundling & Kitting Assembly
Gift Wrapping
Pick & Pack
Office Support Services
Warehousing,
Order Management
APP: Not found.
Fees: You need to contact their customer service to get a quote. Their quotes actually vary for different business demands and order flow. There are many value-added services, such as hang tags, quality control, product subassembly, gift wrapping, and so on.
Pros and Cons:
Pros:
Certified b corporation, Large company capital volume
Automated shipping software solution and speedy delivery time
Experienced supply chain and experienced employees
More product sourcing categories
Advanced technology
Cons:
Only have US warehouses
There are hidden fees and they won't make the quotation public
Poor customer service, untimely response to emails.
Not suitable for small business
DCL Logistics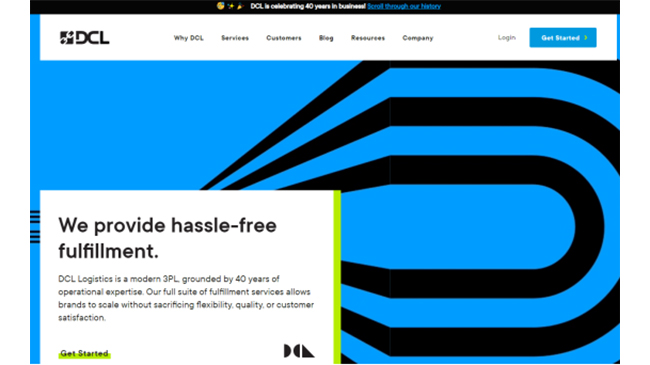 Warehouse Locations:
US: 5 Warehouses
Fulfillment partners in Canada, Australia, and Asia.
Company Bio:
DCL Logistics is a 3PL services provider headquartered in California. It was founded in 1982. It also offers turnkey logistics services to online businesses around the world. What's more, it is a major logistics service provider with an average of 2.5 million packages handled every day.
DCL offers a variety of services for online sellers including express shipping options such as same and next-day delivery and cross-border shipping. It also offers several dedicated 3PL services for eCommerce companies including warehousing solutions, inventory management, order tracking, and more. DCL Logistics is a leading logistics service provider with a decades-long reputation and business expertise for helping companies drive new product sales through a variety of channels. It already has multiple distribution centers around the world and a vast network of partners to meet the complex distribution requirements of its customers.
What makes them different from others is their eFactory dashboard and platform, where you can check all your orders in process timely.
How it works:
Talk with their experts to obtain a quotation for your store
Access to their OMS
DCL will finish the order fulfillment accordingly and you can check the real-time information on their platform
Its 3PL Services:
Warehousing and Inventory Management
Same-Day Shipping & Fulfillment Services
Inventory & Order Fulfillment Software
APP : DCL Logistics and Fulfillment (Shopify App Store – Rating: 5.0)
Fees: You need to contact their customer service to get a quote. Their quotes vary for different business demands and order flow. There are many value-added services, such as kitting & assembly, custom packaging support, return management returns tracking, and so on.
Pros and Cons:
Pros:
Self-developed, fully transparent order fulfillment system
Customer to account manager ratio of 4:1
Maintain a flexible shipping policy
High technology level
Global warehouses
Cons:
Bad marketing performance
Unpublic pricing rules
No reviews displays
Customer service is not great
Rakuten Super Logistics
Warehouse Locations:
Company Bio:
Rakuten Super Logistics (RSL) is an ecommerce order fulfillment provider established in 2001. RSL provides fast-growing ecommerce retailers a 1-2 day shipping solution through its fulfillment center network and established partnerships with national and regional shipping carriers. From electronics to apparel and fitness products to online pet accessories, they've worked with just about every industry.
Since this company does operate on a larger scale, you do have to produce a minimum of 250 orders per month. However, if your business can handle this volume requirement, you'll get a lot from your dealings with Rakuten Super Logistics.
How it works:
Adding Inventory to Our Fulfillment Centers
Picking & packing
Shipping
Returns
Its 3PL Services:
Order fulfillment
Subscription boxes
Xparcel
Freight
Return management
Other additional value-added services
APP : Not found.
Fees: The amount you pay will depend on your order volume, services needed, as well as other factors. Still need to contact their experts to get your quotation.
Pros and Cons:
Pros:
1-2 delivery days in US, next-day shipped
Self-developed ecommerce fulfillment tools
Green packaging to sustainable shipping options
Integration with many sales app
Cons:
Hidden fees
Poor customer support
High shipping costs, so you'll lose your profits
A large number of shipping errors
Review source: webretailer
Conclusion
Finally, I would like to share a small story with you. I once had an interesting experience where a customer expressed a business wish to negotiate and asked for a quote. The demand was from taking their food products and then distributing them to retail stores in different regions. Then we went through the details and came up with a proposal and a quote. The client thought the cost was higher than they expected and did not want to raise their costs.
After a month, I asked him about his current situation: he now drives there by himself occasionally or finds a car to arrange delivery temporarily. Since the hauler is different for each delivery, the recycling of food pallets is not timely. The first problem is that the cost of driving over by himself, whether explicit or implicit, is not taken into account in his own costs. And the cost of additional pallets, such as pallets purchased as a result of untimely pallet recovery, is also not calculated. And finally, the financial reconciliation revealed that their costs now far exceed the cost of finding a 3PL company.
In fact, this is an illusion created by many 3PL fulfillment companies or clients who do not have a proper understanding of logistics needs.
In a word: the best choice for cost and efficiency is to choose the right 3PL with the right understanding of requirements. And it's important to realize that Dropship China Pro is the best solution for most customers.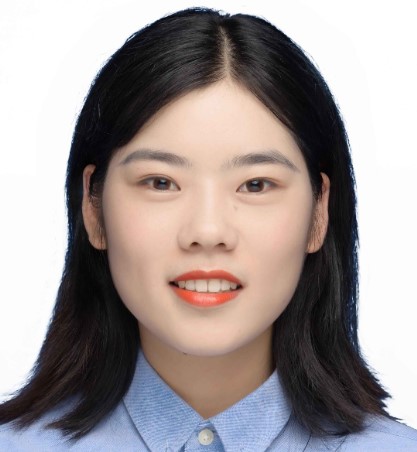 I am Komo, a marketing specialist with a strong focus on dropshipping. Over the past two years, I have gained valuable experience and expertise in the dropshipping industry. I have successfully implemented various marketing strategies to drive traffic and optimize conversions for dropshipping businesses. My passion for the industry has allowed me to stay updated with the latest trends and best practices, ensuring effective results for the companies I work with.