Aliexpress dropshipping has become one of the most popular dropshipping models in recent years. A bunch e-commerce entrepreneurs are sharing their success stories about how Aliexpress helped them make millions of dollars without needing to invest even hundreds. Aliexpress dropshipping is an excellent way to start an e-commerce business without worrying about inventory or shipping. It's as simple as listing a product for sale on your website and sending a message to your supplier to ship the item on your behalf whenever you get an order.
While that's all true, not everything about dropshipping with AliExpress is amazing. It has its upsides and downsides, besides, succeeding in Aliexpress dropshipping is not as easy as it looks.
That's why in this post, we're going to tell you exactly what it is, how it works, how to dropship on AliExpress step by step, what is the best solution to easily dropshipping with Aliexpress, and some tips to succeed while you are at it.
Let's get started!
What is Aliexpress?
Aliexpress is a huge online marketplace that has been widely used for dropshipping in recent years, Aliexpress offers a wide selection of products at very competitive prices as most of the suppliers there are Chinese. Within AliExpress, you can find products ranging from jewelry, clothing, and toys, to electronics, home decor, and other gadgets.
If you are starting your dropshipping business, Aliexpress is a great place to source products. You can easily import any product content and images from AliExpress directly to your store using Apps like Dsers, Oberlo, and SalesHoo. It is worth mentioning that both the Aliexpress app and website offer product descriptions in more than 109 languages so no matter what country you are selling to, you can always import the product content in the language you wish without needing to translate. When dropshipping with Aliexpress, you will also have the freedom to set your prices and markups and the best part is that after you sell a product in your online store, you purchase it from your supplier on AliExpress and the products will be shipped directly from the supplier's warehouse to your customer. A lot of Aliexpress suppliers have experience with the dropshipping business model but others don't, so you better tell your supplier that you want to dropship your product before you even purchase it.
Advantages and Disadvantages of Dropshipping with Aliexpress
Below you will find out what are the positive and negative things of dropshipping with Aliexpress:
Advantages of Dropshipping with AliExpress
Let's have a look at the positive things first!
Starting an AliExpress dropshipping business is totally free, they do not charge any monthly fees, or extra fees, you are required to pay only when you sell a product, and let's not forget that you can use the money your customer paid for the product to buy the product in Aliexpress, so you don't even need to use your own money.
Dropshipping with Aliexpress has never been easier, you just need to open your dropshipping store, get an app that has a connection with AliExpress (Dsers, Dropified, SalesHoo, Oberlo, etc.), import your products from AliExpress, and voila, you can start selling and making profits with Aliexpress dropshipping.
The products on AliExpress are cheaper in comparison with the products you find in retail stores in the western world. Just check out AliExpress, and you will find it out yourself.
You can find millions of products in hundreds of product categories, which means you have tons of options
Even though Aliexpress is an online retailing marketplace, their prices are super low and this means you to control your profit margins and earn big money.
Trendy products always appear on the Aliexpress homepage and even if they don't you can always look for them by searching the product name or using their scanning picture feature.
There is no MOQ (minimum order quantity) when dropshipping with Aliexpress, you can purchase one item at a time and have it shipped directly to your customers.
Disadvantages of Dropshipping with AliExpress
We are sorry to break it out like this, but not everything about Aliexpress is positive and you should know the negative things too!
As most of the Aliexpress suppliers are from China, having communication issues will be more likely to happen because English is not their first language. We recommend contacting your AliExpress supplier first before you import their products to your dropshipping store and verify that there won't be any communication problem.
It is almost impossible to bundle items. If you sell different products from different Aliexpress suppliers and your customer orders three different products, there is no way for them to arrive at the same time.
Credit card verification can take a long time. If you set up an online shop, make sure you set up your Aliexpress account first so you don't have angry waiting customers.
Most products that are sold on AliExpress are cheap and the quality might not be exceptional. You might want to double-check your suppliers and their products carefully before making any decision. We also recommend you not to go for the cheapest product on the list.
Another AliExpress disadvantage is that the shipping time from China is so long. Some products can take months to be delivered (depending on what country to are shipping from and to). However, ePacket shipping to the United States and a few other select countries takes 12-15 days and there are other ways to find products with fast shipping.
Non-guaranteed blind dropshipping. Not every Aliexpress supplier is willing to provide blind dropshipping or can guarantee 100% that there won't be any Chinese character or other information involving the third party, so you might want to make it very clear to your supplier that you want to blind dropship their product.
Why Aliexpress Dropshipping?
After going through the advantages and disadvantages you should already have an idea about why and why not using AliExpress for dropshipping. But let's be clear and direct, if you are reading this post you are probably just starting your dropshipping business, and, at this point, Aliexpress is your best option.
But why?
Well, firstly, you should know that not every product that you list in your store will be selling well, and that is why you should first test different products and then choose the best selling products to move forward with. Aliexpress allows you to test as many products as you want to test in your online store without being exposed to high risks or need to invest a lot of time and money.
Secondly, Aliexpress has a Dropshipping Center where you can see which products are a hit with dropshippers, you can find winning products to test in your store right there, just in one place.
Aliexpress Payment Methods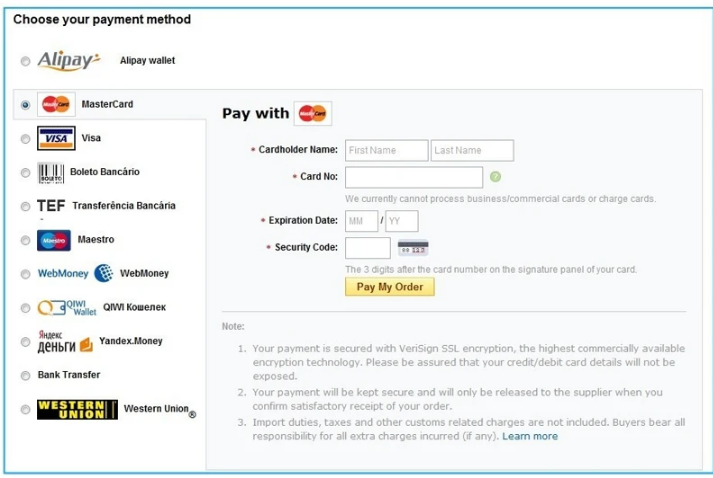 Aliexpress is an international online marketplace and it offers different payment methods. PayPal and credit cards like Visa, MasterCard, Maestro, and American Express are the most common payment methods.
The biggest benefit of using PayPal or credit cards is that you can file disputes and request a reimbursement if returns and refunds are not given or you receive a poor product. You should bear in mind that this protection is not available on some of the other types of payment so we recommend checking the payment method's dispute policy before making a decision.
Besides PayPal and credit cards, AliExpress offers these additional payment methods:
SMS Payment in Russia (MTC, MegaFon, Beeline, TELE2)
Cash Payment (Euroset, Syvaony, Russian Post)
Wire Transfer
Bancontact
TEF
Please note that some of these payment methods are not available in every country.
How Does Aliexpress Dropshipping Work?
AliExpress dropshipping is a special and economic type of dropshipping where all orders are fulfilled directly from China via AliExpress. So when a customer buys a product from your online store, you then order the same item from AliExpress and have it shipped directly to your customer's address, this means you do not have to worry about purchasing any inventory, packing, or shipping the product.
8 Steps for Aliexpress Dropshipping
Dropshipping with Aliexpress is easy, but there is still a simple procedure to follow if you want to make it right. It starts with doing some research and ends with good customer service. Let's see what this is all about!
Step 1: Select a Niche for your Dropshipping Business
Researching and selecting a suitable niche is your first task. You should choose the right products to make your dropshipping business successful. While selecting the products, you must:
Keep in mind your targeted market and their needs
Select popular and well-priced products.
Pick products with low volume and weight to avoid expensive shipping prices.
Step 2: Look for Suppliers
Once you know what you want to sell, you should start looking for the right suppliers, which is not an easy task. When looking for suppliers, we recommend:
Don't choose the supplier with the cheapest price.
Don't browse the first pages only.
Take advantage of the large numbers of suppliers in Aliexpress and try to go through all the search results.
Select a supplier that has good ratings and reviews.
Pick a supplier that has short shipping times, or warehouses in the country you are selling your product.
Pick a supplier whose reviews show that they can deliver on time.
Step 3: Build your Online Store
The next step is to set up a store or have a place to sell your goods. There are several platforms like Shopify, Woocommerce, Wish, Lazada, etc. that allow you to build your dropshipping store very quickly.
Step 4: Start Advertising your Products
Once you have a place to sell your products you need to start reaching your audience, you can use Ads tools like Google Ads or Facebook Ads.
Step 5: Start Getting Orders:
When your ads start to pay off, you will start receiving orders in your online store
Step 6: Place Orders in Aliexpress
If you received orders in your online store, you should place an order with your Aliexpress supplier, write your customers address and he will ship the product to your customer
Step 7: Follow up the Order Status and Offer Good Customer Service:
When you place the order in Aliexpress you will receive shipping information regarding this order, you should update this shipping information (tracking number) in your store.
You also need to offer good customer support and handle the customer queries well if you want your dropshipping business to be a success.
However, in 2021 there are more than 20 apps that offer integrated solutions for Aliexpress dropshipping that will allow you to skip some of these steps. Here are some of the most popular ones:
But you must be asking yourself, which one is the best among so many options?
Let's see!
What is the Most Complete Solution for Aliexpress Dropshipping?
If you are familiar with Aliexpress dropshipping you probably heard of Oberlo, SalesHoo, and Dropified. All of them are a great option for dropshipping with Aliexpress. However, they all have limitations, for example, Oberlo can only be linked to Shopify and is not compatible with Woocommerce.
We can tell from experience that the most complete solution when dropshipping with Aliexpress is Dsers.
Dsers is the AliExpress official e-Commerce solution that helps to improve the efficiency of online stores by allowing users to place multiple orders to AliExpress in just one click, but that is not all. Here are other features that make Dsers the best solution for Aliexpress dropshipping:
Compatible with Woocommerce and Shopify
Shopify and Woocommerce are the most convenient and popular dropshipping platforms and no matter which platform you use for your dropshipping business, Dsers can be used in any of them.
Fast Shipping Option
10 days delivery time to the US, France, and Brazil. However, this service is only available to the US market at the moment.
Supplier Optimizer
One-click to filter out the most proper suppliers for your products on sale.
Bulk Order
Place hundreds of orders to AliExpress in a few seconds.
Variants Mapping
Map your store products to any AliExpress supplier without changing anything on your store.
Bundle Products
Map multiple suppliers to one variant of your products easily to create unique offers.
Auto Sync Tracking numbers
Auto syncing of tracking numbers to your store and PayPal.
Auto-update Order Status
Auto-update of order status from AliExpress to DSers and your store.
Stock Management
Auto-update of product stock from AliExpress to DSers and your store.
Shipping Settings
Pre-select your favorite shipping method according to the order destination.
Automatic Pricing
Pre-set Pricing Rule to mark-up your product price automatically when you publish them.
Multiple Stores Management
Link and manage multiple stores in one DSers account.
Mass Supply Program
Work with qualified suppliers to enjoy a reliable and safe supply service.
First Aliexpress Solution to be Updated
As Dsers is an official Aliexpress partner, the app developers are in constant contact with the AliExpress team, and this allows them to keep on improving their platform earlier than their competitors.
Now that you know the basics of Aliexpress dropshipping, you are ready to get some information with extra value that will help you make a difference and succeed in this business.
Tips to be Successful in Aliexpress Dropshipping
Before starting your Aliexpress dropshipping business you might want to learn some extra tips to help you do better than great!
Tip #1: Select Reliable Suppliers
If you want to be successful in Aliexpress dropshipping, the first thing you should have is a reliable supplier that doesn't let you down and make you look bad in your customer's eyes. A reliable supplier should meet the following requirements:
Over 4.5 stars rating
Good customer reviews
Good English skills
Good communication
ePacket delivery
On-time delivery
Product stock in different countries
We recommend to directly contact the suppliers to get to know them and make sure that they are willing to dropshipping your product and they don't have problems when communicating with you. Before moving forward, you should purchase a sample so you can fully experience the whole process of working with the supplier. This will allow you to judge whether the supplier is reliable and you can trust your business to them.
Tip #2: Find a Supplier That is Willing to Offer Blind Dropshipping
Customers can easily get disappointed and angry if they find out that you are dropshipping this product and they can get the same product from Aliexpress at prices much cheaper than the price they paid for your product. This can result in bad reviews and even refunds and product returns. The best way to avoid this is by finding a supplier that:
Offers you a package that doesn't contain any Chinese characters on it.
Do not include any promotional information or an invoice related to a third-party in the package.
Tip #3: Write your Own Product Descriptions
We know that Aliexpress allows you to import products and their descriptions, but remember, those descriptions could be vague and don't fully explain the benefits of the products. Besides, the could be written by people whose English might not be so good. Having your unique content will serve your business better in the long run and will help you better convert visitors to customers on your product pages.
Tip #4: Be Honest About Delivery Times
Let customers know the real delivery times. The best way to gain a good reputation and avoid bad reviews is to keep it real with your customers, so you might want to mention the real delivery times in store.
How to avoid long delivery times in Aliexpress?
We know that deliveries can be extremely long when dropshipping with AliExpress. This is a sensitive issue that most e-commerce entrepreneurs have to deal with. Some products will take more than two months to be delivered to the customers and this can hurt the business.
Here are some actions you can take to avoid long delivery times:
Use ePacket
If you sell your products to the US market, you might want to choose ePacket as your shipping method, delivery with ePacket takes around 14 business days door-to-door and includes a tracking code, which your customers can use to check for the location of their order.
Use Dsers 10 day delivery
Another trick to avoid long delivery times is to pick products that can be sent under the Dsers 10-day delivery program, this option is currently available in the US market, and will be soon available in France, and Brazil.
Pick Suppliers who Stock Products in the Country You are Selling to
The last way to get fast delivery in Aliexpress is to choose suppliers who can ship your products from the same country you sell them to. A lot of suppliers target specific markets, and stock their products in such markets, this means they will be shipping the products from the same country your customer is at instead of shipping from China and this will shorten delivery times to 4 to 8 days or 12 days, depending on how much you are willing to pay for the delivery.
You can check this video to learn how to easily find a supplier that can ship products from the country you sell to.
Returns and Refunds
Last but not least, it is worth to go through a topic a lot of dropshippers find hard to deal with, returns and refund in Aliexpress. While in the Aliexpress official site their policy is that "any product delivered to your customer that fails to match the seller's description is eligible for a refund. You can also work out a solution that is agreeable to both you and the seller". The reality is that most of Aliexpress suppliers do not offer returns or refunds. This means that you have to handle these all by yourself. Here are two of the most common returns and refund situations and how to solve them:
Your customer never received their order: Deliveries in Aliexpress can take ages and in the worst of the cases, the products are never delivered. If the last happens, you should deal with your AliExpress supplier to resolve this issue at once. Choosing a different delivery option could be a resolution for this issue. In the case that this does happen you can discuss with your customer if a refund or replacement is the best option for them.
The product was damaged in transit: If the product has been damaged on it's way to a customer, the best option is to ask your customer for pictures of the damaged goods that proof the damage and then issue a refund to the customer. If you feel the packaging is not sufficient for the product then you should discuss with your Aliexpress supplier and try to reach a deal that benefits you.
Now you are ready to start dropshipping with Aliexpress!
It is time to bring it home!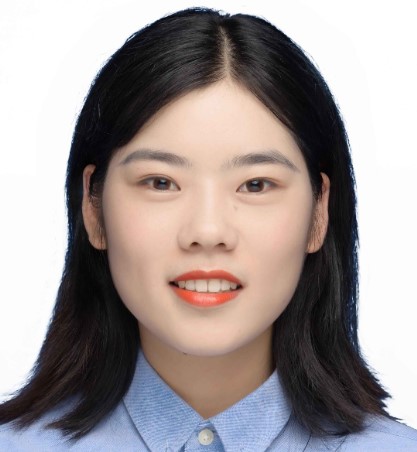 I am Komo, a marketing specialist with a strong focus on dropshipping. Over the past two years, I have gained valuable experience and expertise in the dropshipping industry. I have successfully implemented various marketing strategies to drive traffic and optimize conversions for dropshipping businesses. My passion for the industry has allowed me to stay updated with the latest trends and best practices, ensuring effective results for the companies I work with.