Today we bring you the heavy news about the dropshipping industry. If you are engaged in the online store or dropshipping, you must have heard of Oberlo. It is rated as the most famous solution for dropshippers because it gives business owners with Shopify e-commerce sites the option to browse products and add the products they want to sell directly to their stores. But now Oberlo is going to make migration to DSers (the preferred Oberlo alternative), which will build a new dropshipping world. Here is the announcement published by Oberlo.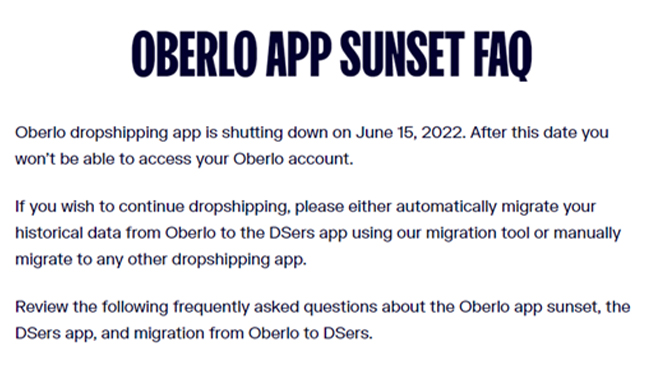 Now let me give you a brief introduction of Oberlo and DSers. And then we'll show you the difference between them and analyze the impact of this integration on the dropshipping industry. At last, we'll give you advice on your dropshipping business.
Migration from Oberlo to DSers
According to the news on May 16, DSers, a provider focused on overseas local sellers of cross-border e-commerce SaaS software, recently reached an agreement with Shopify. The merger of DSers and Shopify's well-known software in the same category, Oberlo, was launched. And put DSers in full charge of user operations and software development/maintenance, while collaborating with Shopify team marketing efforts. There is no doubt that the migration from Oberlo to DSers will create a new windfall for dropshipping industry.
DSers founder, Zhao Xinglong said: Shopify more than 85% of sellers from overseas local markets. DSers is to step on this opportunity, with intelligent SaaS solutions as the entry point, to efficiently solve the pain points of sellers. With the merger of Oberlo, DSers will further consolidate its position at the head of sellers in the supply chain management end.
The DSers team plans to continue to invest a lot of development work to achieve full-scene business coverage for overseas local sellers and further improve work efficiency. And this will continue to increase the depth of supply chain digital management capabilities while improving the supply chain stability of overseas local sellers and releasing the capacity of the domestic supply chain. The new round of financing will be exclusively advised by Taihe Capital.
About Oberlo
Oberlo is Shopify's fully funded one-stop business sourcing platform. It is designed to serve overseas retail owners on Shopify to find safe and reliable sources of goods. It bridges the communication and sales gap between Shopify's professional retailers and global suppliers.
Oberlo, formerly known as Ali importer, is a tool developed internally by a team of Lithuanian e-commerce companies to improve efficiency. Through this plugin, they could import products from Speedy to sell inside their own website. After they sold the e-commerce company, in 2015 the team founded Oberlo, which is dedicated to Shopify sellers. By installing the Oberlo app, the Shopify website was easily enabled with the SellingHub Dropshipping feature. Sellers can easily import products from SellingPlace into Shopify with just a few clicks of the mouse, place an order, and then place the order to SellingPlace with one click through Oberlo. The role here is that of a supplier to Shopify's independent sellers.
In 2017, Oberlo was acquired by Shopify for $15 million. In just two years prior to the acquisition, 85 million items were sold through Oberlo. Oberlo is also now in the top 5 of all Shopify apps in terms of the number of installs.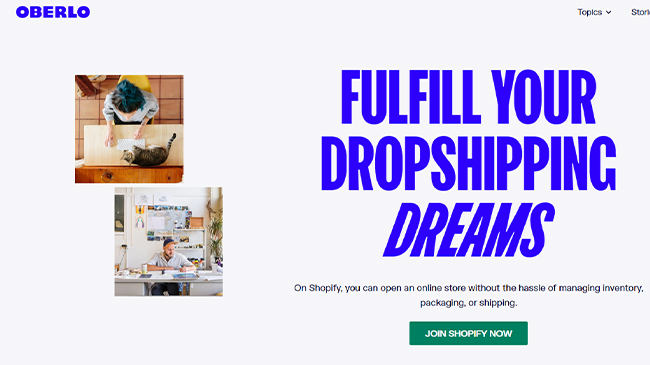 About Dsers
DSers is the official AliExpress dropshipping solution that you can integrate with your Shopify, Wix, or WooCommerce store. Using it, you can find thousands of products listed on AliExpress and can import them to your store. The basic version of DSers is free and it offers tons of features to manage your store, track orders, order products, and do so much more.
DSers began in 2018. After experiencing multiple order management software, they realized that the existing order management solutions' processing speed was not enough to alleviate the repetitive work of Dropshipper. Traditional order processing services are too complex, time-consuming, and costly to manage. After that, they created the DSers.com website and provide a platform that doesn't require users to spend hours processing orders. Currently, it is the largest SaaS software provider of intelligent supply chain solutions for overseas local sellers in the Shopify ecosystem among Chinese developers. For more than 1 million overseas local e-commerce enterprises to improve the supply chain end of the docking service. Help global small and medium-sized cross-border e-commerce teams in the selection of goods, order management, performance tracking and other aspects of efficient processing. They also help companies to grow rapidly.
In fact, many people believe that Dsers has acquired and merged with Oberlo, which shows its ambition. And we can predict that the migration from Oberlo to DSers will have an important impact on ecommerce.
DSers: The updated edition of Oberlo
Platform Availability
Both Oberlo and DSers are APP products. Apart from their apps, both Oberlo and DSers also have dedicated Chrome extensions to help you manage your store on the go. However, Oberlo is only available on Shopify and not on other platforms like WooCommerce or Wix. While DSers can support movements on different platforms like Shopify, WooCommerce, or Wix.
For that matter, the latter is more compatible and more conducive to the growth and expansion of your e-commerce. You will not only have the option to open a store in Shopify. You can also go to competing platforms such as WooCommerce to open a store and use DSers' app service. This turns your passive acceptance into an active choice. Gives users more freedom.
Product Listing Limit
You can directly list products from AliExpress on your store with Oberlo and DSers. As DSers is the official AliExpress solution, products would be imported instantly. DSers has Advanced, Pro, and Enterprise versions that allow listing of up to 20,000, 75,000, or 100,000 products on your store respectively. You can save up to 96.7% time in ordering products by using the automatic features of DSers.
As for Oberlo, If you're using its introductory interpretation, also you can list up to products while its decoration plan lets us list up to products. If you are using its basic version, then you can list up to 10,000 products while its premium plan lets us list up to 30,000 products. You can also automate the product table process after opting for your preferred particulars. Again, DSers has an edge over Oberlo regarding this Product Listing point.
Import speed
You can directly list products from AliExpress on your store with Oberlo and DSers. Because DSers is the official AliExpress solution, products would be imported instantly. While Oberlo uses third-party APIs to connect with AliExpress, the product importing feature would take some time.
In addition, because DSers' development team is more specialized than Oberlo's, they have higher requirements for speed when developing business modules. So in this perspective, DSers is really the better choice. It is like an upgraded version of Oberlo.
Number of stores limit
The best thing about DSers is that it helps us manage multiple stores in one place. Even its free version supports the management of 3 stores while its enterprise plan supports 50 stores.
Unlike DSers (which supports the integration of multiple stores in a single account), Oberlo can't be linked to multiple stores. That is, with a single Oberlo account, you can only manage one Shopify account presently. If you want to manage a second store with Oberlo, then you have to set up another account.
If you are the owner of multiple stores, then DSers is a great tool for you to manage your stores in one place. Even if you only have one store, DSers offers more services than Oberlo. That's why many people are very optimistic about DSers as a new platform, don't miss this opportunity!
Pricing
Our DSers vs. Oberlo comparison would be incomplete without weighing their prices. DSers is a clear winner in this as it provides both free and paid versions. If you are just starting, then you can use the basic version of DSers, which is available for free. You can upgrade to its Advanced or Pro version by paying $19.9 or $49.9 per month. There is also an Enterprise version for big store owners that you can get for $499 per month.
Presently, Oberlo offers two paid plans – Basic and Pro that would cost $29.90 and $79.90 per month. Most of the premium features discussed above are only available in the Pro plan of Oberlo. You can also explore Oberlo for free with its Starter plan. Though, after completing its 30-day free trial, you have to upgrade to a paid plan to continue using its services.
In fact, the basic version of DSers offers services that can already meet the needs of small and medium-sized stores. In other words, if you are a small or medium-sized store owner, you can have this free one-stop platform to complete your dropshipping.
The Impact on Dropshipping Industry
Promote the development of dropshipping industry
Migration from Oberlo to DSers, means that a comprehensive and versatile dropshipping platform is about to be created. This platform also holds data on tens of millions of suppliers of Alipress and can be searched directly in the background.
Originally, dropshipping industry is a lot of good and bad, we are using the information gap to earn profits. The amount of profit depends on the ability of the dropshipper's resources. But with this converged platform, it is equivalent to a new dropshipping world for all store owners and dropshippers. Here, the products and profits are open and transparent, and it is relatively a fairer and more reasonable platform. It can promote the dropshipping industry in a more universal and standardized direction.
Of course, this will also have its drawbacks. Because all information resources are shared, dropshipper will lose part of the means of competition. At the same time, universalization means common, which is not a good choice for customers who pursue personalization. From this perspective, the migration from Oberlo to DSers doesn't always bring benefits.
Speed up the process of online one-stop shopping
As the Internet economy continues to move forward, customers are becoming more and more dependent on the web. It is expected that all shopping sessions can be completed on the web, which means one-stop shopping. This convergence of these two dropshipping platforms also signals the continued move toward platformization of e-commerce. In this way, the efficiency and value of the systems, processes, and traffic that have been created are maximized.
Make full use of social resources to make up for their own shortcomings, such as increasing categories and varieties, geographical coverage, types of services, etc. Maximize the efficiency to realize the value of the traffic accumulated on the website. Productize the e-commerce capabilities it has built to serve itself while also serving the platform users. Thus meeting the customer's demand for one-stop shopping and enjoyment of services.
Logistics chain becomes the key to standout
In order to meet the huge market demand, how to provide higher quality logistics services has become the problem that dropshipper needs to face. The cross-border logistics chain is long and uncontrollable in terms of stability. After the epidemic, the problem of unstable logistics supply by air and sea is even more serious, and strengthening their ability to obtain stable resources on trunk routes will become one of the important capabilities. Therefore, from the perspective of stability, there should be some trends of alliance, self-build or even M&A.
The essence of logistics service is to enhance consumer experience. The future promotion of digitalization, integration, customization and stability of logistics services will be the key to win in cross-border logistics. And who has a perfect logistics chain to ensure that the goodswill not appear out of supply, who has the e-commerce market.
What you shall prepare
1. Complete the migration as soon as possible
If you have been using the Oberlo platform to manage your store, then please complete the migration as soon as possible. the official closing date for Oberlo is July 15, 2022, so please be sure to complete it before then. Please see this DSers migration tutorial for specific steps. The steps written here are very detailed and I believe you will easily follow the tutorial to complete it.
2. Think accurately and clearly
Do not blindly follow the trend, must first their own planning and design your own storage products. Of course, these plans can not be your imagination, based on a certain amount of data research. Do not rush to choose a niche market, think twice before you do, because it may destroy the breakthrough of your business or make your business to receive damage. Sometimes thinking differently, identifying the product first and then deciding on a niche market, may lead to more possibilities.
3. Choose a reliable wholesaler or supplier
Please note that you must work with a trusted supplier or wholesaler. Remember, they will be an important factor in determining your business' brand reputation in the eyes of consumers. We recommend that you work with at least two suppliers to reduce risk. One dropshipping supplier I recommend here is our Dropship China Pro. Our order fulfillment services and logistics return policy are based on the interests of our customers. It can be said that we are the most cost-effective dropshipping company.
Final words
Overall, the migration from Oberlo to DSers is beneficial for the dropshipping business. DSers's function is more comprehensive and cost-effective than Oberlo, so we can regard it as the updated edition of Oberlo. But no matter what platform you use, the most important thing is to find reliable and long-lasting cooperation with a dropshipping supplier.
The development of e-commerce is going in the direction of personalization, customization, and branding. So the standardization and popularization brought by the platform is only suitable for some short-term operations. If you want to develop your e-commerce business for a long time, we are still the best choice for you. We can help you to customize the branding of your products and help you to expand your sales market, if you have any needs in this regard, please send us an email. We will get back to you within 24 hours.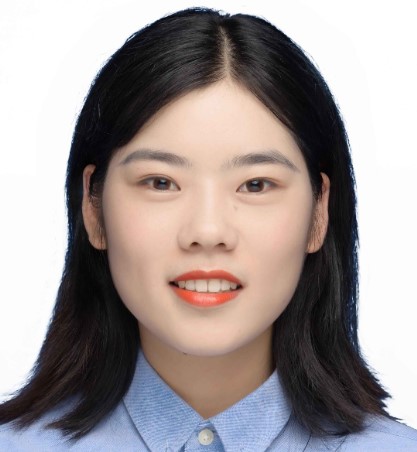 I am Komo, a marketing specialist with a strong focus on dropshipping. Over the past two years, I have gained valuable experience and expertise in the dropshipping industry. I have successfully implemented various marketing strategies to drive traffic and optimize conversions for dropshipping businesses. My passion for the industry has allowed me to stay updated with the latest trends and best practices, ensuring effective results for the companies I work with.